Mental health nursing is a challenging and rewarding career path that involves providing care and support to individuals experiencing mental health problems. As a mental health nurse, you will work closely with patients and their families to help them manage their symptoms, recover from their illnesses, and improve their overall well-being. If you have a passion for helping others and are interested in pursuing a career in healthcare, becoming a mental health nurse may be the perfect path for you. 
How to Become a Mental Health Nurse
Further Your Education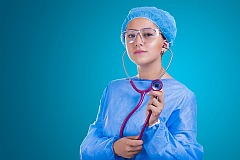 To become a mental health nurse, you will first need to pursue a degree in nursing. You can choose from various nursing programs at both the undergraduate and graduate levels. A bachelor of science in nursing (BSN) is usually required to become a registered nurse. In contrast, an advanced psychiatric or mental health nursing degree can provide you with the specialized knowledge and skills needed to work in this field.
If you already have a master's degree, you can pursue a Doctor of Nursing Practice (DNP) specializing in mental health. A post master's PMHNP certificate is also available to nurses who have already earned a master's degree. Studying online can make it easier to fit your studies into a busy life, so consider researching online nursing programs if you cannot attend classes on campus.
Take the Licensure Exam
Before you can start practicing, you'll need to take and pass the National Council Licensure Examination for Registered Nurses (NCLEX-RN). You may also need to complete an additional state-specific examination or certification to practice as a mental health nurse in your particular state. Take time to research the exact requirements and make sure you're adequately prepared before taking the exam. Consider enrolling in a review course to ensure you pass the exam on your first attempt.
Gain Experience
Consider working in crisis-oriented settings such as emergency rooms or psychiatric wards to gain valuable hands-on training. Shadowing an experienced mental health nurse can also help you become familiar with this job's different roles and responsibilities.
Various mental health nursing internships and fellowships are also available to help you gain experience and learn from some of the best nurses in the field. Many programs offer stipends or salary support, making them an excellent option for those still in school or working to pay off their educational debts.
Get Certified
While not required, many employers prefer hiring nurses certified in mental health nursing. Certification can help you stand out and demonstrate your commitment to this profession. The American Nurses Credentialing Center (ANCC) offers a Psychiatric-Mental Health Nurse Practitioner certification most employers recognize. Other organizations, such as the American Psychiatric Nurses Association (APNA), offer additional certification opportunities.
Keep Learning
The healthcare industry is constantly changing and evolving, so staying current on the latest trends and advances in mental health nursing is important. Take advantage of professional development opportunities such as conferences, seminars, workshops, and online courses to keep your skills sharp and learn new techniques. This can also help you network with other professionals in the field who can provide you with valuable advice and mentorship.
Mental health nursing can be a rewarding and fulfilling profession. With the right education, experience, and certification, you can start building your career as a mental health nurse and make a difference in the lives of those you serve.